In March, we officially signed our kids up for a "real" 5k (definition of real: not in our area, actually paid for a bib number and t-shirt, and kids' times were clocked with an ankle thing).
Since that traumatic experience, we have forced them to go on runs with us.... nothing too severe, just up and down the driveway... frequent walk breaks, not too fast. We even bought them each a pair of official "running" shoes.
Right before football season, I started having Connor go for one and two mile runs with me. We actually got to enjoying it. He likes to keep a slow and steady pace. We get to chat, push ourselves up the huge hill, and feel pretty awesome when we get home. Now that football is over, he has been asking to be able to run with me more often.
And I am going to eat it up. Not only do I love having that quality alone time with him, I also really want our kids to enjoy some kind of healthy, physical activity. I don't care if they play sports, but I really want them to like running or hiking or biking or something. If they start out going with us and enjoy it, maybe it'll stick.
Today Connor and I went out for a two mile run. We kept just under a twelve minute mile pace so that we could talk the whole way.
While we were running, I told Connor a story about how his dad had ran out to the backyard and walked through part of the garden and forest in bare feet and pajama pants just to watch some deer that were going through the property.
He laughed and said, "You know, when Dad gets a big bear this year, he should use part of it and make slippers.."
I said, "Oh yeah... that'd be cool...."
"Then," Connor continues, "Dad could go outside with "bear" feet."
Deadpan.
I totally fell for it. What an awesome, hilarious, two miles.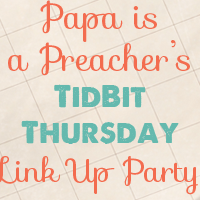 I'm linking up with Larissa today, so hop on over there too!